---
Summer is a season that doesn't seem to last long enough for many of us, so when the sun is out and it's hot, you definitely want to make the most of it. However, this can lead to inappropriate exposure and we end up cursing the sun for our short-sightedness in preparing ourselves to enjoy it safely and effectively.
The good news is once you understand how to bask in the sun and harness all the health benefits it offers, you'll find the overall experience much more enjoyable. With that, here's four ways to make your summer the best one yet!
Get acclimated
It's totally understandable that the minute it gets nice out that you want to run out in the sun all day and bask in the glory of those rays. Unfortunately, that sudden exposure is a shock to your skin and many times you'll find yourself burnt and frustrated.
When acclimating yourself to the sun, start in the spring and create a protective tan with phased in exposure. Melanin, the tanned skin pigment that is created with slow and steady exposure in spring, prevents sunburn in the summer. Melanin transforms 99.9 percent of absorbed UV radiation into heat that is easily dissipated, and helps you effectively avoid radiation damage that can cause cell damage.
So when you start, tan in the early morning until solar noon, exposing at least your arms and legs without sunblock for at least 15 minutes. Use the heat and color of your skin as a guide to cover up when required. If you do burn, applying aloe vera with a drop of peppermint, lavender, or seabuckthorn will offer soothing relief and healing.
Build up your internal sunscreen
There are many things you can do build up your internal sunscreen so you don't feel like a piece of toast after spending time out in the sun. Even with genetic predispositions to easily burn, there are legitimate actions you can take so this is not as prominent of a concern when enjoying time outside under the hot sun.
The first thing you can do is increase the amount of antioxidants you are consuming on a daily basis. The sun's rays damage the skin through free radicals, which are largely responsible for premature aging. Countering these free radicals with antioxidants is very important in preventing or mitigating damage to the skin caused by sun exposure. High antioxidant foods and herbs you may want to consider eating regularly include berries, watermelon, turmeric, peppers, raw chocolate, tomatoes, pecans, green tea, chlorella, cinnamon, clove, parsley, ginger, oregano, basil, and thyme.
If you want to really build up your internal sunscreen quicker without much effort, consider the most potent antioxidant known to man, astaxanthin. It has been shown to support skin health during UV and sun exposure, and is an extremely effective way to build up your antioxidants and support skin health. Get the Health Ranger's Hawaaian Astaxanthin for a clean and potent source so you can prepare yourself accordingly.
For more benefits of astaxanthin and dosage recommendations, go here.
Use clean and effective sunscreen products
The overuse of synthetic sunscreens has led to a multitude of health problems, and this issue needs to be addressed to avoid harmful consequences.
What are the pitfalls of regular sunscreen use, especially conventional brands? As explained by Healing the Body:
"Not only do synthetic sunscreens effectively block the healing benefits of the sun, they also become absorbed and baked into the skin, creating a whole host of potential health problems.
Synthetic sunscreen creates a false sense of security by disabling the skin' early detection system, the sunburn, that gives fair warning of imminent danger. This results in overexposure to UV radiation, which effectively ruins the healing benefits and creates other health problems.
Sunscreens block UVB rays, which are the rays required for proper vitamin D production. The interaction of the suns rays with skin activates the production of vitamin D, which scientists are just beginning to discover how much the body sorely needs.
Consider only non-toxic sunscreens or botanical oils when sun exposure becomes too long and skin protection is necessary. Almost all plant oils offer some degree of ultraviolet protection to their own tissue – and ours. Officially, the term SPF can only be used to reference synthetic sunscreen ingredients, but plant oils do offer a range of protection that can gracefully extend our time in the sun. Plant oils of virgin coconut, jojoba, olive, and seabuckthorn applied to the skin can provide a measure of sun protection. Raspberry seed oil also has potential use as a broad range sun protectant. Under a spectrometer, raspberry seed oil absorbed both UVB and UVC rays while scattering UVA; it may provide an equivalent of SPF-25."
For more information on toxic personal care products to avoid, visit Cosmetics.News.
To enjoy the sun and it's benefits wisely, consider going out in the sun without sunscreen until the skin starts to turn pink, ideally at least 15 minutes in most climates, then put on a non-toxic plant based sunscreen. The Health Ranger's Sunstick Broad Spectrum is an excellent choice.
Use sunglasses ONLY when needed
Sunglasses have become more of a fashion statement than protection for the eyes. Unfortunately, the obsessive wearing of them has inflicted unintended health consequences.
As explained by Healing the Body:
"The eyes need sunlight too, as it is the most direct path of communication to the brain and peoples health and mood depend on it. When a full spectrum of light rays are received by the retina, it is coded in the brain and sets in motion production of hormones and neurochemicals that keep people happy and healthy.
The lens at the back of the eye, which stimulates the body's master clock in the hypothalamus and pineal gland, absorbs the blue part of the sunlight spectrum. This in turn creates the production and release of melatonin, the circadian rhythm hormone that regulates sleep-wake cycles. It is also a powerful immune booster and anti-aging antioxidant that protects DNA and delays neuro-degeneration.
Wearing sunglasses or being indoors blocks blue light reception and reduces the immune system benefits and nightly dose of melatonin. For these reasons, use sunglasses more sparingly and in more intense sunlight situations."
For these reasons, perhaps it's time to consider sunglasses as a more practical tool than a fashion statement. Keep in mind that due to excessive sunglasses use, it may take some time to adjust your eyes to pure sunlight, so do it incrementally and in non-threatening situations.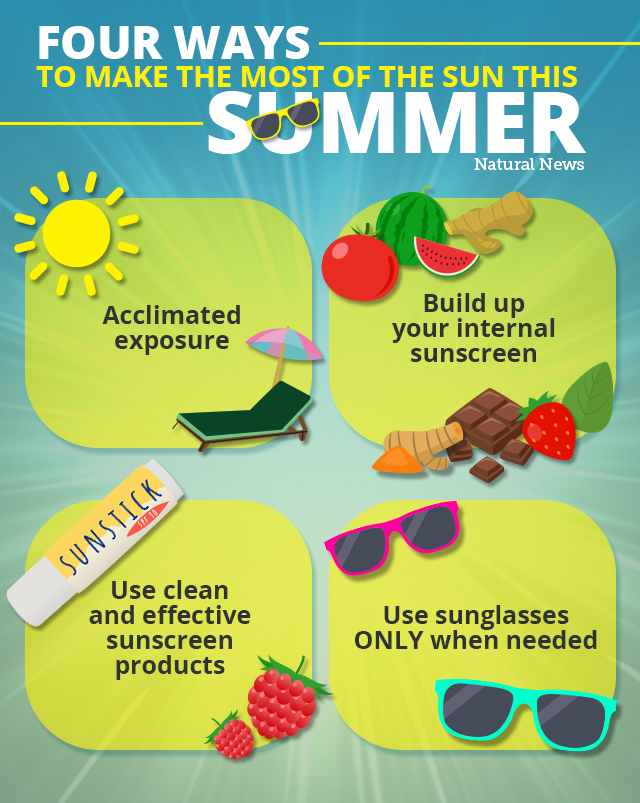 If you integrate these four solutions, summer will be much more enjoyable, and your health will also reciprocate. Now get out there and enjoy this beautiful season!
Sources include: